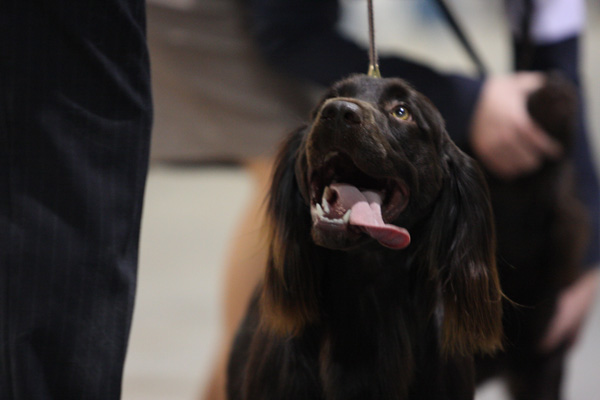 Like many people who I refer to as aunts and uncles, my Aunt Lois and Uncle Bobby aren't actually related to me. They did, however, have the unfortunate privilege of living across the street from my family when I was growing up, and they had the poor sense to engage my mother in regular conversation. At some point, they were granted familial status, though I'm not sure exactly when.
In the time that they lived on Pollard Road, they had two dogs — one of whom I was apparently quite fond of, though he died before I'd even learned to walk — and another, named Dexter. Unlike all the other dogs in the neighborhood, all pure-bred from well-known lineages, Dexter was a Boykin Spaniel. Before he came to live with Aunt Lois and Uncle Bobby, he'd come from a long line of South Carolinian hunting dogs. Judging by Dexter's ability to chase but never capture neighborhood squirrels, we didn't think much of South Carolinian hunters.
Sometime around middle school, Uncle Bobby and Aunt Lois started wintering in Arizona, and they asked us to take care of Dexter. My mother, naturally, was delighted. I'm not sure what it was about Dexter, but she loved him. I'd always guessed it was Dexter's coat, long and brown and curly, with the kind of poof not seen outside of one of my dad's high school photo albums.
Dexter would stay with us for a few weeks at a time in the winter. Aunt Lois would drop off Dexter and his doggy bed, and then he would immediately decide to instead take up residence on our couch. He'd arrive smelling like an Herbal Essences commercial — Aunt Lois liked to pamper Dexter at a place called Bone-jour, a salon for suburban yuppies and their puppies — and he'd leave smelling of mud and filth and the salt that they use to de-ice roads. Mom loved Dexter, even when he smelled, and even though she usually made my dad walk him on the coldest days in winter.
Dexter died when I was in high school, and afterward, my mother was as sad as I can ever remember her being. I guess I don't really remember how Aunt Lois and Uncle Bobby felt about his death; we often joked that Dexter had been "bark mitzvahed," but we didn't sit shiva for him after he died (1).
I haven't thought too much about Dexter since, but today, my boss sent me down to take some photos at a local dog show. It's about what you'd expect from a dog show in Texas: there was an American flag hanging over the premises, but it only had about 23 stars on it. The dogs at the show were enormous, which seemed to explain why I had one of the only non-RVs in the parking lot.
They had about eight large rings set up inside, with dogs parading around each. I stopped by a ring of small dogs, then taller ones that looked like miniature llamas. I rounded over to a ring in the back, where three brown dogs with floppy ears were being judged. I heard a voice.
"They're Boykin Spaniels."
I looked up from my behind my camera. A woman at a judging table was looking at me and pointing to an official dog show program.
"They're Boykin Spaniels," she said again, now pointing to the ring.
I looked back at the dogs. The middle of the three was being coddled by his owner. The dog had those floppy ears that hung like the flaps on a Russian man's winter hat. He had that shaggy coat. And he had this brown ring around his pupils, just like Dexter.
I looked back at the woman. "I know," I told her. "I used to have one just like them."
She seemed surprised, and I asked her where the dogs were from. She placed her thumb over one of the dog's names. I didn't see the name, just his home state:
South Carolina.
I looked back at the middle dog, and I wondered whether or not he'd ever been quick enough to catch a squirrel.