In the summer of 2009, having just accepted a job at a TV station in San Antonio, Texas, I attempted to convince my bosses to allow me to channel my inner Dave Barry and publish a daily blog, to be titled "The Evolution of Local Man." The pitch, as I delivered to my bosses in an email:
Local Man finds himself in a constant, Sisyphusian struggle against success. He has attempted to scale buildings when drunk. He has acted in anger against drive-thru speaker boxes. He has found himself ornery, naked and, most often, confused.

And Local Man will not stop there. He will persevere; he will evolve. Local Man has not failed at all he can fail at.
The blog never happened, (1) but Local Man lived on that year in our news broadcasts. He crashed through windows, busted through police barriers and achieved all kinds of stupid. I was proud to just be there to read the police reports.
But I left South Texas last week, packed my life into a Chevy Trailblazer and moved east, to Biloxi, Miss. When I was arrived, Local Man was here waiting for me.
❡❡❡
Every year, from some tiny port of call you've never heard of comes a story so sordid, it's tough to believe it only happens dozens of times every year. On the Fourth of July, Local Man drinks heavily, lights off fireworks and brings harm upon himself and others. This year, in Chicago, a firework blew up in a man's face. Fireworks exploded in a teen's face in Tennessee. Fireworks even blew a man's arm clear off on Long Island.
And those are just the first three links I clicked on in Google News.
But what I'm really here to say is that any of those local men could have been me, Dan Oshinsky, a respectable, not-in-possession-of-exploding-substances American who just happened to be dangerously close to the path of a toddler with a lit Roman candle on Sunday.
On the Fourth, at about 9 p.m., I drove down to the Biloxi beach to enjoy the fireworks. I did not expect that this would be a life-threatening decision.
What I know now — and what I wish I known then — was that a Mississippi fireworks show should probably come with a surgeon general's warning. Just in my walk down to the beach, I crossed paths with a handful of teens shooting off Roman candles into and over a crowd of thousands. I came about fifteen feet away from a ten-year-old who was lighting off some $20 fireworks with the range of a Soviet-era warhead.
To put it in perspective: I hadn't see that much firepower in one place since my visit to Tiananmen Square.
But it's tough to blame those kids for being stupid. At least they weren't drunk at the time (2)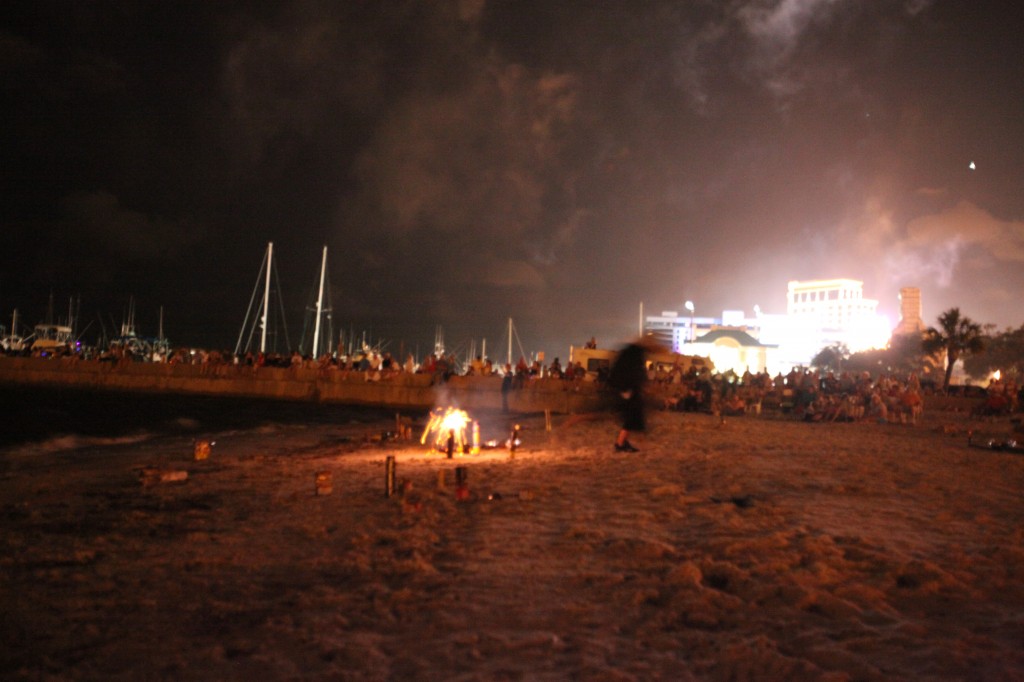 I will, however, point the finger at one Local Man (see above photo), who, for the purposes of this blog post, I will describe as Some Giant Drunk Asshole (SGDA, for short). SGDA was about six feet tall, with all the shapeliness of a small zeppelin. In tow, he had his son, who was maybe two or three years old. And there SGDA was, handing a lit match to his kid, who put it to the wick on a loaded firework and ran.
This happened, oh, about 20 feet away from me.
It was very, very loud.
And then SGDA lit another firework. And other one. And maybe five or seven more.
All while the actual fireworks display was going on.
Was there remorse from SGDA? An apology for nearly blowing off my ear when one of his miniature rockets turned into a sidewinder?
Of course not. Local Man cannot apologize for what he cannot comprehend.
When the actual fireworks display ended, the kids on the beach were down to a handful of Roman candles and bottle rockets. SGDA had lit off the last of his $100 or $150 worth of explosives.
I still tiptoed out of there like I was crossing a minefield near the DMZ.  I wanted, badly, to live. Besides, what good is seeing Local Man in the flesh if you're not around to tell his story?