"Driving using only the rearview mirror will cause you to crash." — Joshua Fields Millburn

So there's this moment that happened in the Olympics road race on Saturday. In a six-hour race, this little moment — and it barely lasted 10 seconds — defined the event.
There's less than two-tenths of a mile left in the race. Alexander Vinokourov of Kazakhstan and Rigoberto Uran of Colombia are dead even — and far ahead of the rest of the riders. They've been even since there were six miles left in the race, when the two of them broke away from the rest of the leaders. Right now, there's a pack maybe 15 seconds behind them, and the full peloton is another 35 seconds behind that.
This is the home stretch, the final minute of the race. They're passing Buckingham Palace. Vinokourov takes a peek back to see if there's someone making a frantic push to the finish line. No one is. It'll either be Vinokourov or Uran on top of the podium.
But Uran keeps looking backwards — once, twice, a third time, then a fourth. These men are traveling at speeds surpassing 25 miles per hour, and there's less than a quarter mile left in the race. I don't know why Uran's looking back. He's seconds away from the finish line. He's on the verge of winning a gold medal in the Olympics.
With two-tenths of a mile left in the race, as Uran's looking over his left shoulder on that fourth peek to figure out if someone's behind him, he doesn't notice the rider beside him. Vinokourov makes his move, takes his five hardest pedals of the entire race and pulls ten feet ahead on on Uran's right. By the time Uran looks up, Vinokourov's got a lead that can't be made up. After 150+ miles of racing, ten feet of separation is too much. The Kazakh takes gold.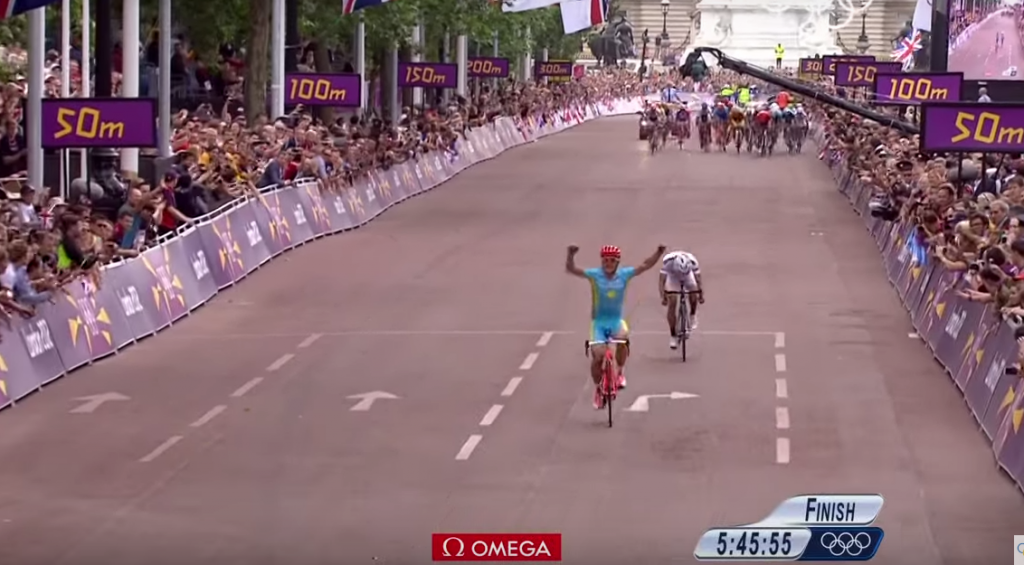 It's a massive mental error by Uran. After six hour of biking, with the finish line in sight, he started driving using the rearview. He kept his eyes on his competitors, not on his goal. That's no way to do work — or to win an Olympic gold medal.
There's only one way to do things: Looking forward, focusing on your work. When you think more about the competition than your own work, you let the competition govern what matters in your world. You can't let that happen.
Uran was in control of his own destiny until the moment he took his eyes off the road. As soon as he did, he lost sight of the work he needed to do to win gold.
So keep your eye on the journey ahead. Focus on what you're doing. Be a man of action, not reaction.
Your work — and your work alone — is all that matters.
Those images come via this video of the 2012 Olympics Road Race.