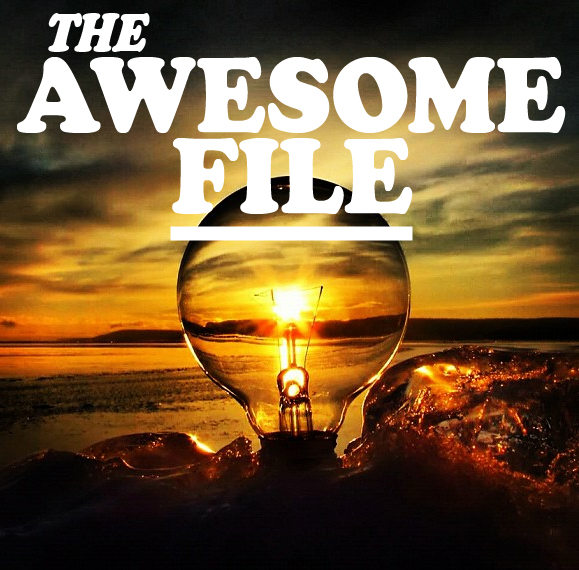 If you've been reading this blog, you know already: I'm a big fan of awesome work. But doing the work isn't easy. It requires persistence, patience, luck, hustle — and a whole lot of inspiration.
I'd like to help connect you to some of the things on the web that inspire me. Maybe they'll spark something in you, too.
Every month, I'm going to add to something I'm calling "The Awesome File." Today's your first filing.
So: Here are 10 completely awesome things that you should really make time for this month:
1. READ: Derek Sivers' "Anything You Want
It's only 90 pages, which means that you could finish the entire thing over a long lunch. But savor "Anything You Want." It's not as much a business book as a manifesto for creating things that matter. If you're looking for the courage to take a small step, start here.
2. READ: "Waking Up Full of Awesome"
If you're just looking for a swift kick in the pants, read "Waking Up Full of Awesome." In 216 words, it's a reminder to wake up tomorrow ready for everything the world has.
3. WATCH: "Her Morning Elegance" by Oren Lavie
As cool a stop-motion video as you'll ever see. It's all kinds of whimsy. What I love most is the story that gets told in the video. A friend once told me that we all love stories when we're 6, and we all love stories when we're 60. But sometimes as you get older, you need a reminder.
Let this serve as your reminder:
4. LISTEN: Daytrotter
I've been a huge fan of this site for years, and their recent transition to a subscription site has been superb. For $2 per month, you get (nearly) infinite live recordings from all sorts of bands, from the established (Counting Crows) to the up-and-coming (The Lumineers.) Five or six bands record new sessions for the site every single day. Make your earbuds happy and get yourself a subscription.
5. LOOK: Once Magazine
If you've got an iPad, get a copy of this into your hands. If Ansel Adams, Annie Leibovitz and National Geographic had a baby, it'd probably look a lot like this. It's a magazine full of awesome stories presented beautifully.
6. PAUSE: "Ram," from CBS Sunday Morning
Every Sunday, at the end of his newsmagazine, Charles Osgood brings viewers 60 seconds of silence from somewhere spectacular. Here's 60 seconds of sky, sound — and one giant ram:
7. SMILE: "I Wanna Dance With Somebody" by Ben Rector
Ben Rector does a one-man cover of Whitney Houston's classic. It is supremely catchy. You will enjoy it. You will almost certainly start dancing.
Stop reading and go click play:
8. CONSIDER: Alarm Clocks Are Evil
"The snooze button is a weapon in the battle between the selves we'd like to be and the selves we actually are." This is an excellent read on alarm clocks — the enemy of hustle. This month, try to heed its warning.
9. LAUGH: Nick Thune.
Possibly the only comedy bit ever that includes jokes about both pregnancy and acute angles. Insanely clever and very funny:
10. LOVE: A manifesto.
I don't know how to get my hands on a larger version of this, but if it's possible, I want it. These are words to live by.
That's all for this month's edition of the Awesome File. Got something to submit for August's edition? Tweet me at @danoshinsky with your suggestions.
Photo of that crazy lightbulb at top via @jdp124.