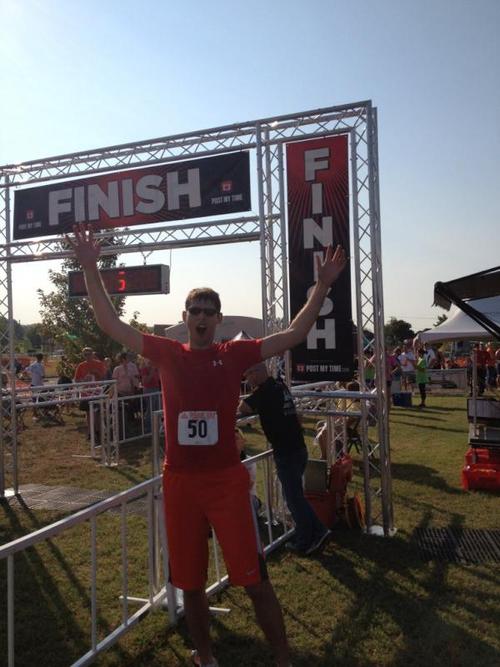 "Courage can solve in 30 seconds what timidity can't solve in 30 days." — Steve Pavlina
Back in May, I started looking for a race. I knew that with Stry.us happening, I had plenty of business goals for the summer. What I didn't have was an athletic goal to work toward.
So I started looking for a race. The 5Ks all seemed to fall on weekends when I'd be traveling for business. There were a few half marathons or marathons around the Ozarks, but there was no way I was doing one of those.
Then I found one that could work: The Republic Tiger Tri, taking place just around the block from Stry.us HQ. The race seemed straightforward: 300 yard swim, 12 mile bike, 5K run.
I signed up before I had a chance to convince myself that it was too crazy to do.
I spent the summer training. I did lots of running, lots of biking, and a weekly swim at the Republic pool. I did stuff I'd never done before: Kickboxing, intense weightlifting. Starting in July, I cut out beer and most sweets.
On Friday, when I picked up my race packet, I'll admit that I was a little scared. Then I drove the bike course.
And I was a lot scared. Who knew the Ozarks had hills like these?
But I kept telling myself: You finish what you start, Dan. You signed up for a sprint triathlon. You thought this was gonna be easy?
I woke up at 5 on Saturday morning. I had everything packed in advance. I drove up to the race course. I got everything laid out in the transition area. The PA announcer called everyone to the pool.
And then I looked at my stuff, and I realized I was missing something:
A bike helmet.
There were 400 people competing in this thing, and I was the only one dumb enough to forget a bike helmet.
But I didn't panic. Hell, I'm the guy who's written a blog series called "The Things I Think About When Every Fucking Thing Goes Wrong." I called Sarah, one of my reporters. I talked to the volunteer in the parking lot and one of the volunteers at the finish line. We coordinated a plan. Sarah would bring the bike helmet up to the course, and the volunteers would get it to my bike. It would be there waiting for me when I got out of the water.
Problem solved.
I grabbed my goggles and started to run up to the pool. They'd be putting in swimmers one at a time, and I'd be in the middle of the pack. I had a bit of time before I started the swim.
And then my goggles exploded.
Maybe exploded isn't the right word. Disintegrated might be more appropriate.
I was running up to the pool, holding my goggles in my right hand, and the strap just snapped.
I was left holding the lenses and nothing else.
Oh, hell.
But that's alright, I told myself. You finish what you start. And I'm the guy who believes that the harder the journey, the better the reward.
I found a volunteer, and she found the head lifeguard at the pool. I just need something functional to swim in, I told him. I'll swim in a snorkel mask if I have to.
He did me one better: He found an extra pair of goggles from another lifeguard.
Second problem solved.
I got myself in line, right in the middle of a group that expected to swim the 300 yards in 6:30. I started talking to the guy in front of me. He was telling me about how he'd run a marathon last year in Fayetteville, Ark. — at an 8:20 pace!
I was blown away. I wish I could run like that, I told him. Of course, I said, you're a bit lighter than me.
He weighed about 140 pounds.
That's not quite true, he told me. Two years ago this month, he weighed 255 pounds. He went to the fair in Springfield with his daughter, and the fair wouldn't let him on the rides. He was too fat.
He'd had enough, he said.
So one step at a time, one day at a time, he started working it off. He gave himself big goals. Hit 200 and he'd buy a pickup truck. Go lower and he'd try a big race.
He's now the owner of a new truck. He's run a marathon. They let him on the rides at the fair. He doesn't have to worry about being the "fat dad" at school anymore.
Suddenly, listening to his story, all the chaos of my morning got a lot less complicated. His story put everything in perspective for me.
He'd had to change his life to get here. I'd put in the work this summer — but nothing quite like that.
I had no excuses. I just had to finish what I'd started four months earlier.
I finished my sprint tri on Saturday in 1:26:56 — and I brought it home with a 27:10 5K. I nailed the swim. I conquered the bike, and all those hills I was terrified of the day before.
And when I hit that run, everything hurt. I started feeling muscles in my legs that I didn't know I had.
For the run, I turned to one final source of inspiration. I thought about what my sister had told me on Friday. She's run a couple of half marathons. She's one of the toughest people I know.
A race like this is 90 percent mental, she'd told me. Just keep putting one foot in front of the other. Eventually, all those little steps will take you somewhere.
So I took her advice. I pushed hard through the run. I kept my head up and my feet moving.
And damn if it didn't feel good when I crossed that finish line and had the race official hand me my time. Damn if it didn't feel good to see Sarah running up to give me a giant hug, her yelling out, "I can't believe you just did that! I can't believe you just did that!"
Damn if it doesn't feel good to be able to say now: I finished what I started.