The best part is Robert Randolph is wearing a Sergio Tacchini warm-up. #ParkCity50 pic.twitter.com/AprdXWFM6o

— Andy Miller (@AndyMacMiller) December 21, 2013
I saw something last week that I have never seen before, and will probably never see again.
I was in Park City, Utah, for the holidays. Mom had heard on the radio that Robert Randolph & The Family Band would be playing a free show at the base of Park City. We got off the slopes early and headed to the show.
I've seen Robert Randolph play a half-dozen times now, and he does a fun thing during some of his shows. During an extended jam, he'll pick up a guitar and extend it toward the crowd. He'll give the crowd a look: Anyone out there play?
A few years ago, in Kansas City, I saw a kid — no more than 15, I think — come up and cover "Purple Haze" with the band. If you've never seen a teenager jam with a guy on Rolling Stone's 100 Greatest Guitarist lists, you really should.
Anyway, Robert picked up a guitar midway through the Park City set. A college-aged kid with a big fro came up first, played a few licks. Robert shook his head and sent him back into the crowd.
A second guy — maybe in his early 30s, still wearing his ski clothes — came up, and Robert let him play for two or three seconds before sending him back, too.
Then a third guy came up. Robert's guitar tech came over with the guitar, and the guitarist whispered something in his ear. The tech brought over a chair, and the guitarist sat down.
Then he took off his right arm.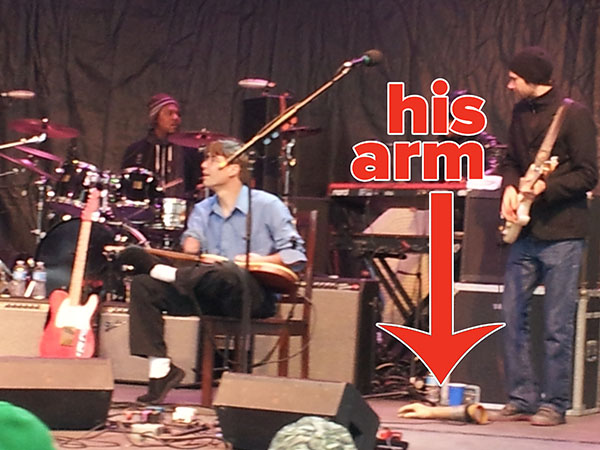 And then with the stump of his right arm, he began to play.
And Robert smiled. Because right away, you could tell: The dude with one arm could really play.
Robert jammed with him on a song. And then another. And then another.
When Robert finally said it was time to go, the crowd went insane. A one-armed guitarist holding his own with a dude considered one of the greatest guitarists ever — even a week later, I keep asking myself, Did I really see that?
I walked up afterward to congratulate the guitarist. His name's Jeremiah Maxey, and he plays in a few Park City bands, including one called — and I couldn't believe it when he told me — the Right Hand Band.
So here's to you, Jeremiah. I'll see a lot of shows in my life, but I don't think I'll ever see something quite like the three songs you played with Robert Randolph. Thanks for having the guts to walk up on stage — and for the reminder that people can be pretty amazing, sometimes.