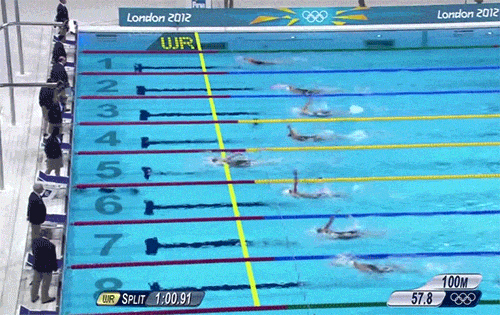 Here's another hard truth about doing the work: It's largely about setting goals and accomplishing goals. And accomplishing goals is really freaking hard.
The work usually goes like this:
1. You set your goals.
2. You start accomplishing some of your goals.
3. You feel great about how much you've accomplished already.
4. You feel like you're accomplishing so much so fast!
5. You look at the calendar and realize that it's almost the end of the year and you've still got a million things left to do.
6. You flail wildly and struggle to the end of the year.
And this is in a good year.
As soon as you set your goals, you basically become Missy Franklin, the swimmer in this GIF: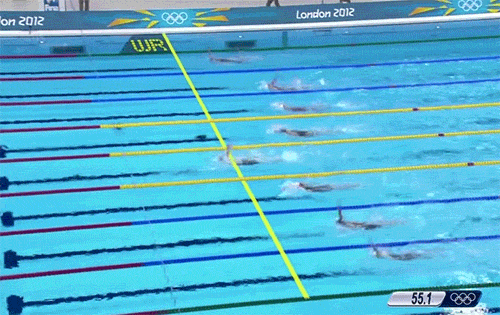 The yellow line represents the world record pace. In order to beat it, she has to stay ahead of that line. And no matter how fast she goes, she can't seem to get ahead of the yellow line.
This is the nasty secret: You won't ever really get ahead of the yellow line. You rarely get to feel like you're way ahead your goals, because — and this is really, insanely annoying — as soon as you do beat your goals, you're going to set new, more outrageous goals. And then you'll flail again in hopes of catching up to those.
You set the bar, hit that new height, and reset everything. But you never really get ahead.
Mentally, it's a massive adjustment — there are no true end goals, just carrots that you're forever chasing down the road. But over time, you learn to adjust. You learn to celebrate your smaller victories, and to cherish the really big accomplishments.
And then you go and chase the next big goal. That's just how it is.
That GIF of Missy Franklin breaking the world record in the backstroke at the 2012 London Games comes via this YouTube video.