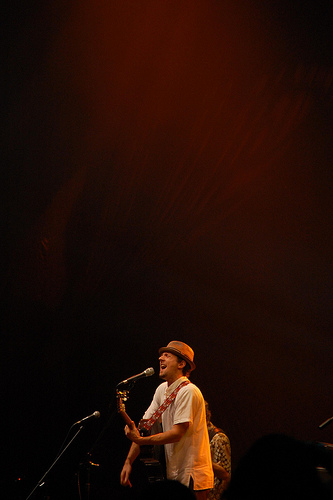 I spent the first six months of 2008 studying abroad in a little seaside town in Spain called Alicante, "studying" being a very loose term for what was actually going on. The last few weeks, some Americans came out to visit, and I kept asking them the same question: What did we miss while we were away?
For the most part, I'd stayed pretty current on what was happening in the States. I was reading the news every day, and I'd watched the Super Bowl, and I was even up-to-date on the latest episodes of "Lost."
But there was other stuff I knew we'd missed: The ad campaign that everyone in America knew by heart, or the catchphrase everyone had heard, or the hit song that kept playing on the radio. I was so scared of coming back to the U.S. and feeling like I'd been on a different planet.
But everyone kept telling me: You really haven't missed anything.
So fast-forward to the fall. I'm back at school, at I go to the piano bar on a Wednesday night. It's acoustic guitar night, and it's mostly the same old stuff: Garth Brooks, Journey, Elton John.
And then the musicians break into a song I've never heard before, and everyone — and I remember it being literally every person in the bar — starts screaming out the lyrics.
I looked at my friends and asked them what the hell was going on. What was this song, and how did everyone know it?
This song, Dan? This is that Jason Mraz song that blew up last spring. It's called "I'm Yours."


Everyone in the world had heard that song at that point…. unless, of course, you had been living in Alicante, Spain, where the radio was still mostly playing 2007's hits (with a healthy bit of Tupac thrown in). Nobody had mentioned that Jason Mraz had a no. 1 hit. I was the only person at that bar who hadn't heard that song 50 times.
If you've never been in that boat — if you've never had a moment where you realize that you're the only person in the room who doesn't know what the hell is going on — know this: It's a terrifying experience. All you want is to be in the loop as quickly as possible.
I wish I could say that the Jason Mraz song was my one experience with that feeling, but it wasn't.
It's also how I felt for first three months of my job at BuzzFeed.
You have to understand: When BuzzFeed hired me to build out an email program, I didn't really know much about email. I had launched two small newsletters, yes, but otherwise, I was in way over my head. BuzzFeed knew that, too — but neither of us realized how truly clueless I was about email and publishing and BuzzFeed and pretty much everything on the internet.
I was working with Dao, who is now our publisher, and Dao knows everything about everything. She'd throw out basic acronyms and I would jot them down in a notebook to Google later. She'd start talking about spreadsheets, and I'd run home at night to learn how to use Excel.
Everything was brand new. Everything. And it felt like I was the only one in the room who could say that.
There were days where I truly felt like a fool, and many more where I wondered when I would ever feel like I had a grasp on my job.
Luckily, I asked a lot of questions. Luckily, the team I was working with answered them, and taught me so much in the process. Luckily, I really did want to get good at this job, and worked like crazy until I got there. (These days, it's entirely possible that I know too much about email! So it goes.) But that's the only way to do it: Find people who can really help you, ask as many questions as you can, and work your ass off to get to where you need to be.
The only other option is feeling like a fool. And that's not much of an option at all.
———
That photo of Jason Mraz comes via Flickr's @gueamu.