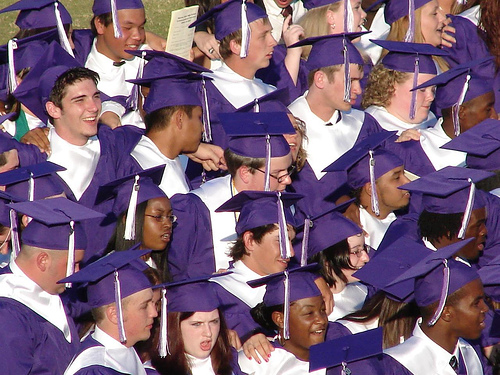 Hi, there! Congrats on graduation — and welcome to the world of unemployment!
You're probably already applying to a million jobs online, and not hearing anything back from employers. And worse: You're living at home with your parents, and they're going to keep asking you the big question:
Why haven't you gotten a job yet?
At first, this won't bother you, because none of your friends will have jobs either! But then one friend will get a real job, and then another, and then you'll wake up one day and your parents will have slipped an LSAT prep book under your door.
This is the point at which you'll start to think that your parents might murder you soon.
But it's OK! You will get a job eventually. And in the meantime, here's what I suggest:
Make a list of 50 people in your city or in your field that you admire. Don't stop at 15 or 20. Make it all the way to 50.
Then find their email address or mailing address, and write them a note. Make it short — 5 sentences or less. Tell them that you've just graduated, and you admire their work, and then tell them that you want to bring coffee to them and ask 3-4 questions about how they got to where they are.
This is very important: You have to offer to bring coffee to them. People HATE leaving their office in the middle of the day if they don't have to. But anyone can make 10 minutes if you promise to bring them free coffee and not waste their time.
So here's what's amazing: A lot of the people you email/write to will actually write back and take you up on your offer! You're a recent grad, and everyone's been in your shoes before. There are a lot of really smart, really talented, really powerful people out there who'd be happy to help you… just as long as you come to them and don't waste their time.
Now all you have to do is show up with coffee and make your 3-4 questions count. And then afterwards, write the person a thank you note. Don't write an email — write a letter and mail it to them. This part is important, too.
Will this land you a job? Well… maybe not. But if you do this — if you send 50 notes, if you bring them coffee, if you don't waste their time, if you follow up with a note — I can pretty much guarantee that you'll meet at least a handful of people who you can build a relationship with. They're people you can send links to or drop a note to say hi every once in a while. And they're the kinds of people who also control a lot of the hiring at companies. Maybe they won't be able to offer you a job today. But they're going to be the people who — when they hear of a job in the future — might email you and give you a heads up, or even make an introduction. In the long run, that network can be a hugely valuable thing.
Good luck, Class of 2015.
———
That photo of graduation comes via Flickr's Andrew Schwegler.