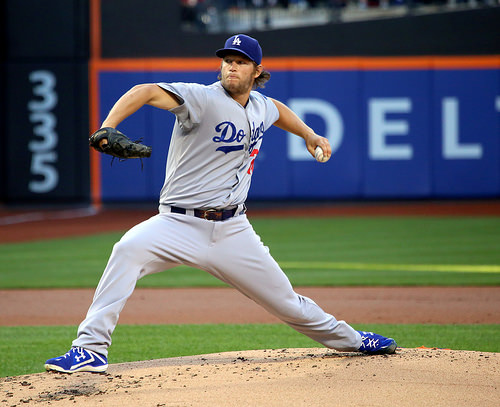 I just finished "The Best Team Money Can Buy," a really good new read on the Los Angeles Dodgers' quest to win a World Series. It focuses in on Clayton Kershaw, the Dodgers' star left-handed pitcher, and one of the most dominant players in the game. (How dominant? He's won the Cy Young award for pitching three of the last four years. The other year, he finished second.)
And when he's pitching well, he's basically unhittable:
What makes Kershaw so good? For one, the book details, Kershaw does an unusual series of things on days when he pitches. He leaves for the ballpark at the same time. He warms up at the same time. He throws the same number of warm-up pitches at the same time. He even eats at a same time. Everything is geared around keeping things exactly the same on game day.
Baseball writers like to use certain words for guys like Kershaw. They call him "superstitious" or "quirky."
I'd put it another way: Kershaw's a guy with a very, very specific routine.
Routines are a wonderful thing for people who do complex work. For Kershaw, a routine takes away a lot of the decisions he has to make before pitching. He doesn't need to think about when he should eat or what kind of stretches to do beforehand. His routine is already fully built, and it allows him to keep his complete focus on the actual work — instead of the other decisions that could distract him during the day.
Here's another way to think about it: Routines are processes for doing the work, and when your work is hard, it's even more important that your routine be solid.
Totally unrelated example: I just finished a GQ cover story on Stephen Colbert, where he talks a lot about the process of creating his new late night show. Here's my favorite part:
And then he talked about the Food Network show Chopped. The reason he loves Chopped is that it's a show that is wholly about process, about creation within a limited range of possibilities. "This show," he said, meaning The Late Show, "is Chopped. Late-night shows are Chopped. Who are your guests tonight? Your guests tonight are veal tongue, coffee grounds, and gummy bears. There, make a show.… Make an appetizer that appeals to millions of people. That's what I like. How could you possibly do it? Oh, you bring in your own flavors. Your own house band is another flavor. You have your own flavor. The audience itself is a base dish, like a rice pilaf or something. And then together it's 'Oh shit, that's an actual meal.' And that's what every day is like at one of these shows. Something is one thing in the morning, and then by the end of the day it's a totally different thing. It's all process."
That's the power of routines. They get you to a place where you can create the results expected of you — and then allow you to show up the next day and do the work all over again.
———
That photo of Clayton Kershaw comes via Flickr's Arturo Pardavila III.