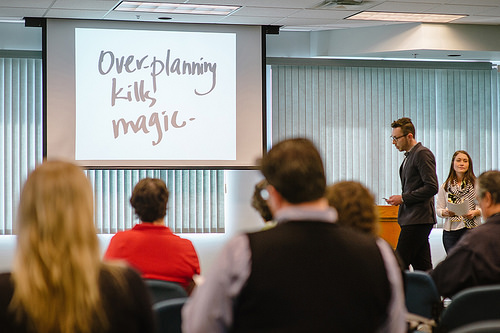 Here's something that happens at every office: You work hard on a big presentation. It's got everything a great presentation needs: Actionable advice, clear takeaways, and data to back up your big points. You send out the calendar invite to a large group of co-workers — maybe an office listserv full of people who could use your advice.
Then when presentation time comes, only a fraction of the invited employees show up.
Why? What went wrong?
I've been thinking a lot about this problem lately. It's something we struggle with at BuzzFeed, and something I hear echoed in conversations with friends who work in fields from media to medicine. Why aren't people showing up for valuable presentations?
Three things are usually at play:
1) No one is holding them accountable — This is the big one. If you're inviting people on a more personal basis — emailing 2-3 people at a time, or reaching out to folks on a 1-to-1 basis — they know that you personally want them there, and that you expect them to be there. When you reach out to a big team/group/listserv, it's more impersonal, and people often feel like their attendance isn't necessary. They also know that if they don't show up, there won't be any pushback — you won't follow up to ask why they didn't make time for your presentation.
2) They don't know what's in it for them — WIIFM isn't just a silly acronym — it's also an important part of any good presentation! Every time someone gets an invite to a presentation or a training, they should have an expectation for what they'll be getting out it. If there's nothing in it for them, why would they show up in the first place?
3) They don't believe presentations are valuable — If you've been to a handful of sub-par presentations at your office, you're less likely to think of them as valuable — and much more likely to think of them as a waste of time. And that's a shame! A great presentation can change the way you work and give you the skills to produce amazing things. In a perfect world, people would LOVE going to presentations — they're opportunities to make you better at the things you do every day!
So what can you do to improve your presentations? I'd start here: When you send out the calendar invite, let everyone know what they're going to get out of your talk and why it's so important. Follow up with people in person to make sure they understand why they should come — and create the expectation that their attendance is important. And lastly: Knock your presentation out of the park, and give them great advice that they can use!
———
That photo of a presentation comes via the University of the Fraser Valley's Flickr.