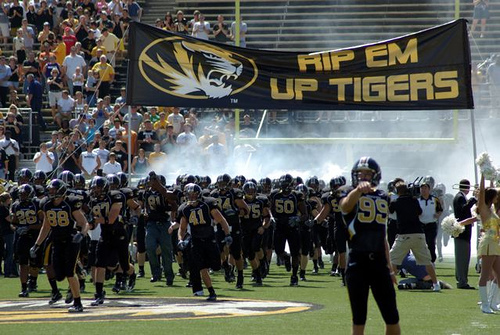 An unusual and alarming thing has been happening lately, and I'm only now starting to figure out how to handle it:
College football is making me feel old.
It started about a year ago, when recruits coming to my alma mater, the University of Missouri, started saying things like, "I was a huge fan of Chase Daniel and Jeremy Maclin growing up," or "Sean Weatherspoon was my favorite player when I was a kid."
Those guys played at Mizzou when I was at school. Some of their teammates were in my classes.
If they're the heroes that today's 18-year-olds looked up to when they were in elementary school or middle school, that means….
Well, I must getting old.
But it also means another thing, something more about how long it takes a team or a business — or even someone like you or me — to build a reputation.
When I came to Mizzou in the fall of 2005, we weren't particularly good at football. We'd beaten our biggest rival, Nebraska, just once in the previous 25 years. Mizzou was more famous for our losses than our wins.
But starting the fall of 2005, we started to win — and win a lot. Over the next decade, we'd win two Big 12 North titles, and two SEC East titles. We'd win three January bowl games. We'd have a Heisman trophy finalist. We'd reach no. 1 in the country.
And over the course of that decade, the conversation around Missouri football changed. When I entered as a freshman, nobody knew what "Mizzou" meant. My own grandmother often got confused and thought that I attended Washington University in St. Louis, and not the much larger, much-better-at-football school 120 miles west in Columbia, Mo. (When we hit no. 1 my junior year, she figured out which school I really went to.)
A decade later, I walk around New York in a Mizzou shirt and regularly hear people screaming "MIZ!" from across the road, the same way I see Michigan grads yelling "Go Blue!" when they see Wolverines gear. We even have a bar in the city, and we fill it every Saturday.

It took a decade of success for Mizzou to switch the conversation. Why? Old timers in the state still think about Mizzou as the hapless team from the '90s and early '00s that couldn't win big games and could never beat Nebraska. But the younger generation — people like me, or the kids just entering Mizzou now — only know Missouri as a perennial football contender. In the decade we've been following Mizzou, we've only ever seen success. So why should we expect anything different?
It took an entire generation of success — a full decade of winning — to change the conversation.
And that's gotten me thinking about the idea of a decade of great work. My first big journalism breakthrough came in the summer of 2008, when I covered the Olympics for the Rocky Mountain News. Which means that I'm two years away from that 10-year mark. In that decade, I think I've had enough highs (Stry.us, the RJI fellowship, BuzzFeed, speeches at several conferences) to have built a reputation in the industry. I'm not all the way there yet, but eight years in, I've established myself through my work.
Here's to changing the conversation — and finishing off that decade strong.
———
That photo of Mizzou football in 2007 comes via Flickr, a Creative Commons license, and Jim Ross for EAGLE 102 Sports.