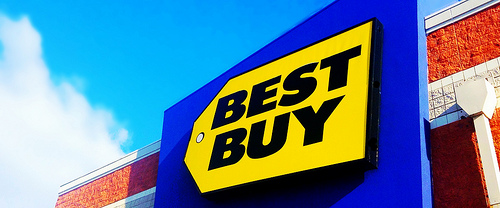 This is a little outside my normal sphere of expertise. OK, a LOT outside that sphere of expertise. But still: I was inspired on a trip to the store to write about a way an entire business could do better work. Here's what I think.
———
A few weeks ago, I did something I hadn't done in years:
I went shopping at Best Buy.
I'm guessing that a lot of readers of this blog haven't been to Best Buy in years, either. I used to go often. It's where I bought my first laptop, and where my family used to go to buy music(1) and cables to connect TVs and other electronics. But now I buy my laptops at the Apple Store, my music is all digital, and those cables can be bought cheaply on Amazon(2).
So what's left to buy at Best Buy?
The one I went to was — to be perfectly blunt — a gigantic, sad husk of the store I remember. This Best Buy sold everything: Computers, phones, DVDs, music, stereo systems, couches, TVs, and even washing machines and dryers. It was as if the Best Buy staff had realized that they weren't sure what to sell, so they decided to sell it all.
Last week, I wrote about a question we should be asking more often in our work: What's the problem? What I saw at Best Buy were a series of solutions in search of a problem. Back in the '90s, there used to be a huge problem: It was hard to find trustworthy places that sold expensive or complicated electronics. And Best Buy filled that need well! In any city, you knew Best Buy was a good place to buy a big screen TV or the sound system to go with it.
In 2016, that's not a problem. Anything you used to buy at Best Buy, you probably buy at a higher end store (like an Apple Store) or online.
So what's the problem in 2016?
Here was my problem, the thing that brought me to that Best Buy a few weeks ago: My car has an ancient sound system, and it was time to install a new stereo that allowed me to plug in an iPod and connect a phone via Bluetooth. Best Buy, it turns out, is still a trustworthy place to handle such a complicated installation.
Here was my Dad's problem, the thing that brought him to Best Buy last year: He needed a new, cheap laptop, and he trusted Best Buy to sell him one and give him the customer support to install the software he needs on it.
In both cases, Best Buy has a team devoted to helping customers install and use their new electronics: Geek Squad. And for an older generation that uses electronics every day but doesn't always understand it, Geek Squad — much like their Apple counterparts at the Genius Bar — can actually solve a problem for consumers. They're a trusted source of knowledge when it comes to professional installation and help on complicated electronics.
Here's my fix: Rebuild the entire business based on Geek Squad, and the help they can give customers when making an expensive purchase.
At the Best Buy I stepped into, the Geek Squad was hidden in a corner of a huge store. I couldn't understand why. The Geek Squad is why you'd step into a Best Buy in the first place! Their desk should be front and center in the store, and everything sold at Best Buy should come with the option for Geek Squad help. They should be holding computer classes on programs like Excel or TurboTax in their stores. You should be able to go to BestBuy.com, buy a product, and have it waiting for you 36 hours in store for pickup, with a Geek Squad employee ready to help you set it up. Or you should be able to have a Geek Squad employee personally deliver it to your house for installation.
There's an opportunity there for Best Buy in 2016. They'd just have to be willing to recognize the problem their customers actually face, and change their business in service of their problem.
Easier said than done. But there is a way.
———
That photo of a Best Buy comes via Flickr, Creative Commons, and Mike Mozart.