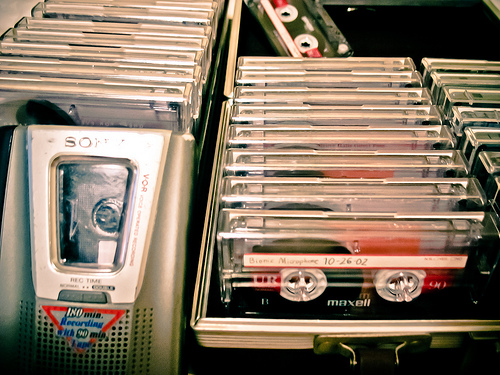 In 2012, I wrote a blog post on this very site that asked a rather uplifting question: "How long are you willing to suck?" In it, I suggested that if you were going to get really good at anything, you were going to suck at it for a very long time first. It really does take a long time to master a skill. The people who do eventually get good at something are the ones who keep working to get better.
And today, I'd like to add on a corollary to that theory: As you work to get better at something, you're going to make a tiny thousand fuckups. They'll probably feel like a big deal at the time, but here's the thing: They really aren't.
Here's a story:
I was 15 years old, and I was covering my first Washington Redskins game as a credentialed reporter. I got to sit in the press box with the other reporters, and I got to interview players after the game. I was very nervous and very excited to be there.
My first game was a meaningless preseason game. My job was pretty simple: At the start of every quarter and at the end of every half, I called this company's central office and told a guy what the score of the game was. After every scoring play, I called that guy with an updated score. After the game, I called that guy and gave him a few quotes from the locker room. Then they'd send out game updates based on my updates.
That was it. It was a very, very easy job. It required me to watch football for money(1), but without actually doing any real work. I didn't have to write a game story when the game was over, and I didn't have to go on air. I just had to watch football, talk to a football player or two afterwards, and make a dozen phone calls.
I remember my first locker room experience. I'd gone to RadioShack to buy a brand new tape recorder — literally, it recorded audio on tiny 1-inch tapes.(2) I remember walking into the locker room and noticing the way the room was laid out, each group of players in their particular corner. I remember walking over to Champ Bailey and Chris Samuels, both Pro Bowlers, to ask questions.
And I remember this most of all: Getting back to my car after the game, pressing play to listen to the interviews I'd done, and hearing…. silence. I remember looking at my tape recorder, and realizing that I'd accidentally pressed the play button, not the "REC" button to record. I hadn't recorded a single second of my interviews.
I felt like the biggest fuckup in the world. My first time in the locker room, and I didn't do my job correctly.
And since, I've said and done the wrong thing so many times that I've lost count. I've reported on big stories and then spelled a key source's name wrong — in the print edition. I've sent the wrong email to huge lists of people.
I've stumbled, blundered, and fucked up over and over again.
And in each new skill I learn, I'll keep fucking up! That's part of the process of learning. You try stuff, you fuck up, you learn, you get better. Those fuckups are always little things that can be corrected and learned from. As long as you keep learning and working to get better, you'll come to realize that your fuckups aren't a big deal. They're teachable moments, that's all.
———
That photo of an old-school tape recorder comes via Orin Zebest of Flickr and a Creative Commons issue.