Last month, on a road trip back from New England, I had the best pizza of my entire life.
It was at a place called Sally Apizza in New Haven, Connecticut, a restaurant that's been there since 1938. The pizza was incredible. Everything they did — the crust, the toppings, the sauce — was perfect. Right now, even just thinking about that pizza, I'm trying to figure out if there's time for me to get on a train and make it to New Haven before Sally's closes tonight.
Like I said: Their pizza was unbelievably good.
Here's my favorite part of the Sally's experience, though: The menu. This is what their entire menu looks like: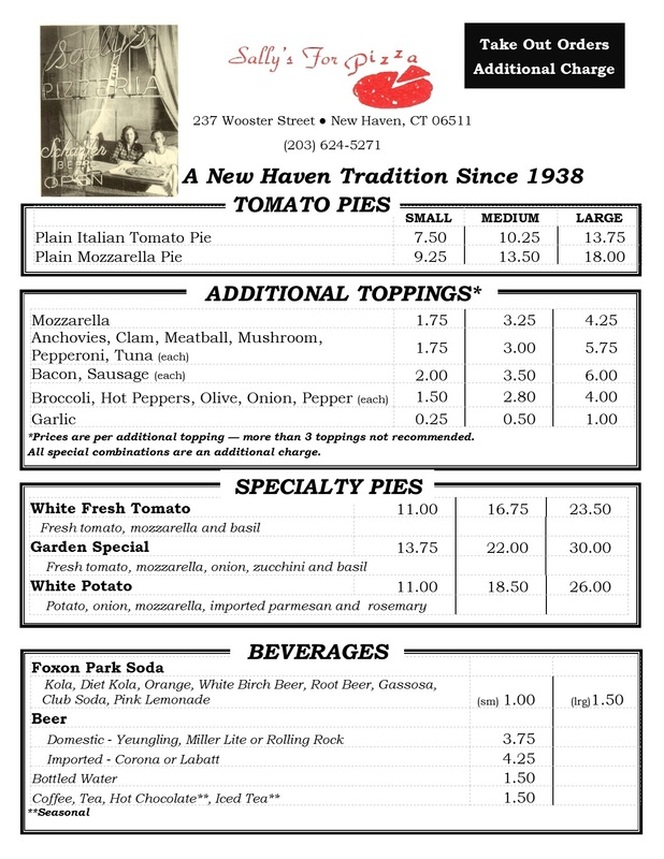 You'll notice something about that menu: Sally's does not sell the usual Italian fare. They don't sell salads, or mozzarella sticks, or calzones, or pasta, or any sort of side dishes. They sell pizza, and drinks to go alongside pizza, and nothing else. That's the way they've done it since 1938.
Turns out you can stay in business for 78 years selling only one thing if that one thing is that good.
There's something to be learned from a place like Sally's. When I was coming out of college, my skill set was like the menu at a New York diner: I did a little of everything, but nothing particularly well. I had written for print, blogged, edited video and audio, and even gotten into photography. I was OK at everything.
When I tried to figure out the first step in my career, I found myself stuck. I could do a lot of things, but I wasn't sure what one thing to focus on. I didn't seem fully qualified for anything.
So for that first job, I applied to everything — and I mean everything.
I applied to jobs as a reporter and editor. I applied to jobs on the radio. I even applied to a job as one of CNN's new backpack journalists, despite the fact that I'd never been on air.(1) I didn't hear back from anyone, because hiring managers could tell that my experience was a mile wide and an inch deep.
If I could go back, I'd tell myself to focus a little more in college. Yes, it's good to be well-rounded, but it's even better to have one killer skill that people can't ignore.(2)
I'd tell myself: You can always improve your skill set later, and you can always move from one field to another. But especially for that first job, having a specialty sets you apart.
When it comes to careers, we could all be more like Sally's Apizza: Do one thing, and it really well.
———
That is a photo of me about to eat all the pizza at Sally's. (Two of us ate enough pizza for about 6 people, and I'm not embarrassed by that at all.)
A fun fact: I applied to that CNN job in every single bureau they had, which meant I applied for the same job about six different times in six different cities. I didn't realize one HR department handled everything, and they grew increasingly more annoyed with me as my applications kept rolling in. Whoops! ↩
Maybe it's even connected to whatever weird/fun thing you make on the side! ↩