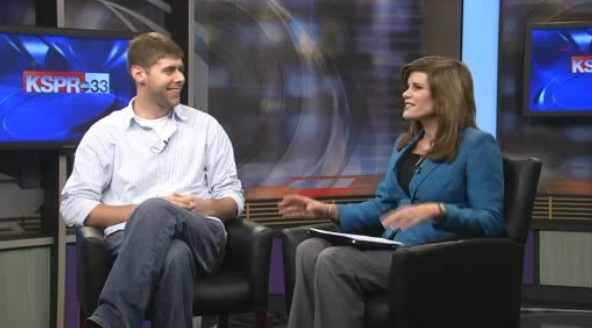 So it's Tuesday afternoon, and I'm in an almost empty TV studio in the middle of Springfield. I am sitting next to Leigh Moody, news anchor at the local ABC station. I am the guest for the 4 p.m. news "Close-Up" interview.
The countdown goes "4.. 3… 2…," and then Leigh turns to me and asks me the question that a lot of people ask, which is: How did Stry.us start?
And it's the funniest thing. Because everyone — EVERYONE — wants to know how this thing started. But hardly anyone asks the really big question, which is:
How the hell is this thing still going?

I've started plenty of things that never went anywhere. But I've never started anything that's lasted quite like Stry.us.
And that thought was rattling around in my brain when I hopped in the car after Leigh's interview and turned on the radio. Dylan's "Like a Rolling Stone" was playing, and Bob was already through the first verse. And he sang:
How does it feel /
To be on your own /
With no direction home
And it all just kind of hit me at once. That's what this has been — this solo journey, with no discernible course. Some projects are linear. Some have a definite road.
The path for Stry.us has been more of a squiggly.
I didn't know what this thing was going to become two years ago. In my initial pitch for Stry.us, I talked about filming YouTube videos and wearing sponsored logos — like a NASCAR driver. (Seriously.) I was especially clueless back then. This thing's gone through so many iterations that I've lost track of them all. It's been a solo operation. A news syndicate. It went through a period of nothing, and then a few periods of serious somethings. And now?
Now it's taking real shape, because I've paired it down to an incredibly simple mission. Stry.us is about two questions:
1. What matters to people?
2. And how do we tell great stories about those things?
It is the simplest thing in the world. And people get it. In my meetings this week in Springfield, I'm seeing that twinkle in the eye when I talk about Stry.us. People love the idea. They get the idea. The love what we're doing with our reporting.
After two years, I finally got okay with the idea that we're just a band of reporters in pursuit of really great storytelling, and we don't need to be anything more. We're focused, we're uncomplicated and we're really starting to go places.
So, Bob, you wanna ask me, How does it feel?
It feels pretty damn good.