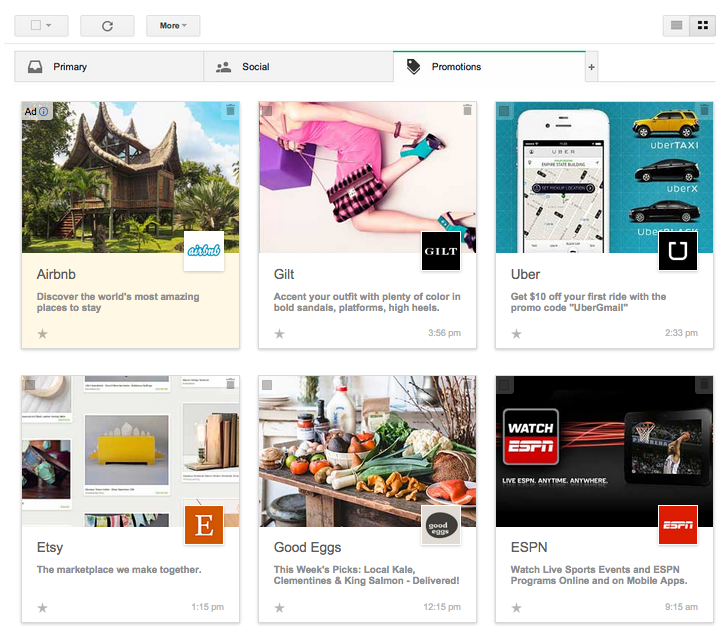 About a year ago, Gmail rolled out something they called "grid view," and it caused a bit of noise within the email community. Briefly:
-Gmail has a feature called the tabbed inbox. It's designed to filter certain types of emails — like promotions from companies, or newsletters — into specific folders, making it easier to find the stuff you want.

-Within that inbox, Gmail rolled out an experimental feature — grid view — that made the promotional tab in the inbox more visually appealing. (There's a screenshot of grid view at the top of this post.)
Naturally, every email marketer started trying to figure out how to hack that feature for best results.
At BuzzFeed, we did nothing.
Why?
Since I started building the BuzzFeed newsletter platform back in 2012, I've had a singular focus: Make our emails as great as possible every single time. We send dozens of different emails a week. I personally have sent 1,000+ emails for BuzzFeed — actually, I've probably sent far more, but I lost count somewhere along the way.
But the focus has always been the same: Make our emails great. That means that when you open one of our emails, the stuff you're getting should be consistently delightful, useful, and fun.
And it's with that focus that I've seen every facet of the newsletter program grow over the past 2+ years. Our open rates have improved. Our click rates are up. And our subscriber numbers are through the roof.
There's a lot of stuff that can derail great work, and one is focusing on the wrong things. If we worried about stuff like Gmail's grid view, we'd be wasting time thinking about the bells and whistles of the email world. I call features like grid view "the shiny stuff." They catch your eye, and they're fun to play with, but in the end, they're not your core product. We had to focus on the things that were going to make our work great — and the results speak for themselves.
When you're building something new, having that focus is so important. Without it, you're going to spend a lot of time on things that don't matter at all.
I mention this because this week, Gmail quietly announced that they were killing off grid view. So I'm pretty happy that I didn't lose a single minute of work on that — and put all of my time instead into the products that will be here for (hopefully) years to come.