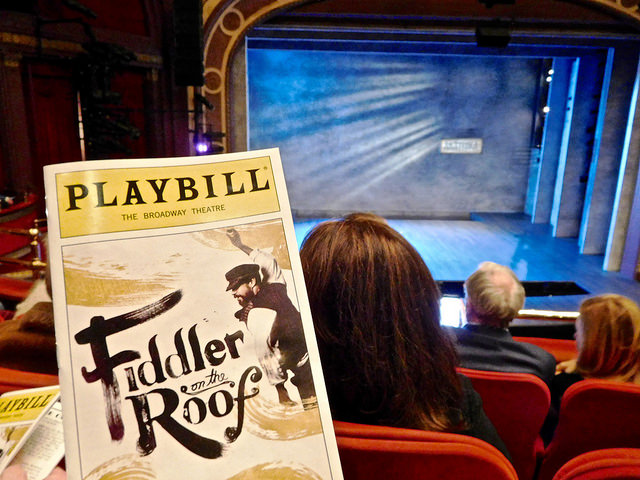 Can we talk about "Fiddler on the Roof" for a second?
I love "Fiddler." I love the music, and I love the story.(1) And as I grow into a leadership role at my office, I've been thinking a lot about the main character of Tevye, and how his role in "Fiddler" has partly inspired the way I try to make decisions at work.
If you've never seen "Fiddler," here's the 15-second version: It's the story of a humble milkman (Tevye), trying to lead his family and his Jewish community through a period of huge upheaval in Russia at the turn of the 20th century. Over the course of the story, Tevye's homeland rejects him for his religious beliefs; his daughters grow older and marry, but not to the men he'd once envisioned for them; and his family is uprooted from their home. It's a fascinating — and heartbreaking — story.(2)
Lately, though, I've been thinking a lot about Tevye's role in "Fiddler" story — specifically, the way Tevye adapts to the realignments happening around him. As his world changes, Tevye deals with every new issue by moving through the same four steps:
1) Ask — Tevye asks a lot of questions, seeking to understand the "why" behind changes that affect him.
2) Listen — He listens carefully to what the people he trusts most (his family, his fellow villagers, even some Russian officials) tell him.
3) Learn — He's receptive to a variety of viewpoints, and willing to accept ideas that aren't his own. He challenges himself to see things through other people's eyes.
4) Decide — He tries to make the best decisions he can with the information he's been given.
And by using the same method for every major change — ask, listen, learn, decide — Tevye consistently makes good decisions. He surrounds himself with people who support him, but who are also willing to challenge him. And Tevye has the humility to understand that by listening to those perspectives, he can push himself towards the best possible decision. In his family, the decisions are always ultimately his, but Tevye never makes a decision without going through that decision-making process first.
All of this matters when you're making decisions as a leader in your workplace. You have to surround yourself with smart people who are willing to confront you with hard truths. On a team, dissent and disagreement can be a good thing — as long as you're willing to recognize that you don't have all the answers. Together, the team can always get to a better solution than you will alone.
The next time you watch "Fiddler," watch it with Tevye's process in mind. I think you'll be impressed at how such a humble character can show such wisdom as a leader.
———
That photo of a "Fiddler" playbill was taken by Deb Nystrom and used here thanks to a Creative Commons license.