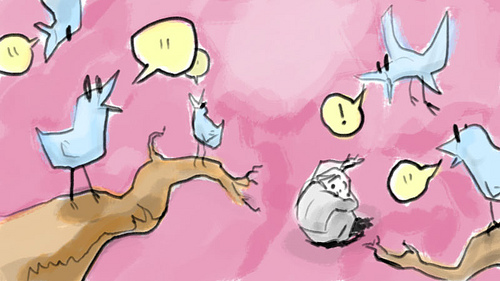 I'm not going to write a long thing about Twitter here. It's been written before, and from Twitter users far more insightful than me (including here and here and here and here, and that's just a small sample).
But what I will say is: Especially in the last year, I've realized that Twitter frequently makes me sad. Or angry. Or frustrated.
I log into Twitter, and I leave mad about the world.
What I loved about Twitter early on was that it helped me discover interesting things to read or watch, and interesting people to talk to. But I don't feel that way anymore. Right now, when it comes to discovery on the internet, I'm more excited about apps or email newsletters.
So here's a very quiet goodbye to you, Twitter. Maybe I'll be back one day. Maybe not.
Anyway, bye for now. Six years is a long time since that first tweet:
attempting brevity.

— Dan Oshinsky (@danoshinsky) October 21, 2008
That original artwork at top comes via Flickr's Pete Simon.