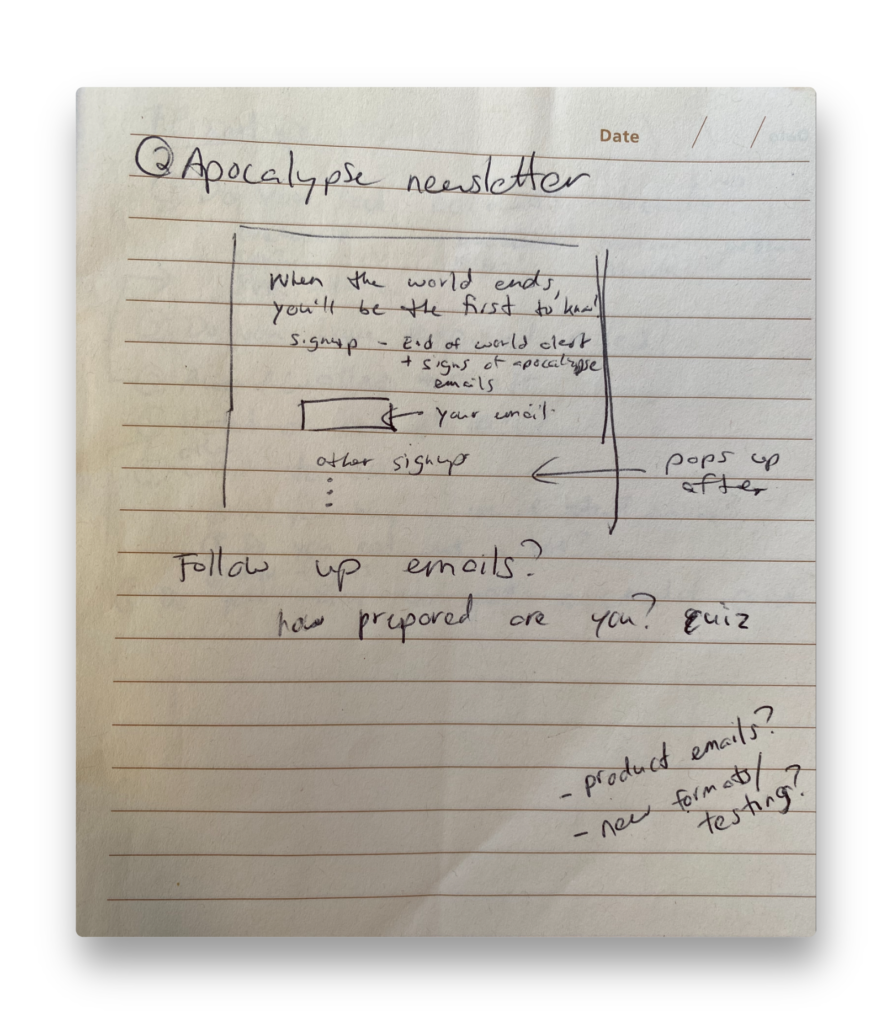 Earlier this week, I found a notebook from my BuzzFeed days, and inside, a few pages in, found an idea for a newsletter that I never seriously considered launching.
The idea was for a joke newsletter, one I called "the Apocalypse newsletter." On the page, I drew the landing page for the newsletter, with a big headline: "When the world ends, you'll be the first to know!"
The idea first came, maybe a decade ago, during a series of conversations about breaking news alerts. It felt like so many other organizations sent breaking news alerts for the tiniest things. I felt like breaking news should be reserved for stuff that you couldn't leave your house without knowing. And then I took it a step too far: What if we created a breaking news alert that was only sent if the world was truly ending?
What would we send the rest of the time? An occasional email highlighting stories that proved — jokingly, of course — that the end of the world was near.
This newsletter never went further than the piece of paper I drew it on. I never had a serious conversation about it.
There are a lot of ideas in that notebook. Some were real ideas that turned into really good newsletter products, like our lineup of Courses. Some were silly ideas that we launched and turned out well, like This Week in Cats. Some never got off the ground (an idea for a British TV-focused email). There are far more bad ideas in there than good.
And that's OK.
Even the bad ideas get your wheels turning. It's easy to draw a line between that joke idea — One breaking news alert, sent at the end of the world! — and a real conversation, one I've had many times over the years, about what really constitutes breaking news. Even the bad ideas still led to deeper thinking.
Let the bad ideas come. Jot them down. Give them consideration.
You never know when that truly bad idea might lead you to something worth pursuing.
———
That's the sketch of the Apocalypse newsletter landing page. A bad idea, yes, but so are most of my ideas.