"Start where you are." — Danielle LaPorte

Five words I don't ever expect to say again:
I don't have any ideas.
The challenge, it turns out, isn't coming up with good ideas. It's deciding which of them is worth pursuing and working on.
I have a list where I keep all these big ideas I'd like to work on one day. Some of them will get acted on in the coming months. Some of them will get executed in the coming years. Some will never make it past this list.
And then I decided this week to put all of these ideas down on the Internet. This scares the crap out of me. Maybe one of these is a million dollar idea, and I just don't know it yet.
But then I realized: Maybe you'll see something on this list that you'd like to work on with me. Maybe you can help point me towards the ideas that are really great.
No reason to keep this list secret. So here they are: 25 big ideas that I'd like to work on one day.
Got advice or help to offer on one them? In that case, shoot me an email or a tweet. Let's talk.

Stuff That Could Actually Happen In 2012.

1. Wiki 2.0: Tools For Reporters —> A revamp of jstart.wikispaces.com, my giant list of journalism resources. I'm going to relaunch this as an email newsletter specifically geared toward journalists, and show them tools that can help them do better work. I'm launching this next week.
2. The Student Guest Blog project — The big challenge for college students with blogs is finding an audience. I'd like to open up my blog to any student who wants to write about how to do better work. I'd be able to offer editing help and blog advice to those students, and they'd be able to use that post on "Good. Better. Done." to help pitch future guest blogs elsewhere.
3. The "Almost Famous" blog challenge — I love the movie "Almost Famous," but I always wondered what the main character's final story for Rolling Stone would look like. So I'm going to write it up myself — a 3,000 word piece about the fictional band, Stillwater — and I'm going to invite others to submit their own versions of William Miller's story.
4. The Good. Better. Done. Newsletter — A weekly update from yours truly about doing better work and links/awesomeness that can inspire such work.

Stuff That Could Actually Happen In The Next 1-3 Years.
5. The Indecisive Man —> This is a manifesto I started writing in early 2012 dedicated to shaking self doubt and getting to work on work that matters.
6. Belly Challenge 2.0 — Belly Challenge 1.0 — between my father and I — was a huge success. Each of us lost 20+ pounds over the course of the year. But I'd like to invite others into the Challenge, and to create a small network of people who push each other to work out and improve their lives through regular exercise. When trying to lose weight/get in shape, having a team behind you makes a huge difference.
7. Guide to Startup Journalism — Using what I've learned from Stry.us, I'd create a guide to the initial steps in starting up a journalism business. I'd focus on the things that don't often get emphasized: The importance of getting the right business structure set up; finding a payroll service; launching a website; etc.
8. 1000tinysteps.com — A blog devoted to all of the little steps someone can take to get moving on a project, an idea or an adventure.
9. The Monday Morning Work Podcast — I've found that I'm always more excited when I start the week with a good conversation. So I'd like to start hosting a live podcast each Monday morning — 15 to 30 minutes long — about doing work and getting inspired. Each podcast would be built around a single conversation.
10. The College Graduate's Guide to Getting a Job — I really want to help people who are about to go through early career decisions. I'd love to start by helping walk students through the basic career steps — how to network, how to build a portfolio site, how to do better interviews — in an online class.
11. The "How Can I Help?" sessions — A block of time each week in which I make myself available via phone to early career journalists (and other young people) to help in whatever way I can — from career advice to resume help.

Stuff That Would Be Awesome But That I'd Need Lots of Help On.

12. "30 Conversations" — One of the things that I loved about Stry.us was that we gave people who otherwise wouldn't have a say the opportunity to get their voice heard. I'd love to have 30 conversations with Americans in the days leading up to a big event — i.e. an election — about the issues that are on our minds.
13. The I'm On Dayquil Gmail hack —> When I get sick, I go straight to Dayquil, and I get a little loopy on those orange pills. But I still try to send out email and do work when I'm sick. I really need a Gmail hack so that I can add something to my email signature when I'm on Dayquil, something that says, "Dan's sick and on Dayquil. If this email makes less sense than usual, that's the reason why."
14. Dog and their Owners, Losing Weight Together: A reality show — I think that done right, reality shows can produce some really amazing stories. This would be one about dogs and their owners, losing weight together. It'd be a show about companionship, a show about trust — and a show that inspires. Done right, it'd tell some amazing stories about Americans and the role that pets play in our lives. Some reality shows are trashy, but I think this could really break the mold — again, if done with care.
15. ReadLocally.com — A site featuring great, original long-form journalism produced for specific local communities. It'd be for newsrooms at the intersection of hyper-local and long-form — think projects like Stry.us for Springfield.
16. TravelGoesWrong.com (or: WhenTravelGoesWrong.com) — A site devoted to first-person testimonials about horrifyingly bad travel experiences.
17. The Big Book of Sleep — For as long as I can remember, I've been obsessed with sleep. What most people don't realize is that sleep is a multi-billion dollar industry in this country. That includes the money spent on beds, sleep aids and sleep-related research. And if you count work hours lost to exhaustion, I bet the number would be several billion dollars higher. I'd love to write a book on the industry and how important sleep has become in America.

Stuff That's Probably Never Going To Happen

18. The Plus-1 Network — A small email listserv for young professionals who love going to weddings. When someone on the listserv needs someone awesome to come along as a plus-1 to a wedding, the listserv would step up.
19. ThisFuckingJob.com — A site devoted to helping people escape cubicle life and find meaning from their work. Also: The most memorable name of any domain I've ever purchased.
20. TV Dinners That Were On TV — A website featuring recipes that you saw your favorite characters make on TV. Kevin's mom on "The Wonder Years" and Betty on "The Flintstones" always seemed to be cooking up awesome dishes, and here, we'd try to figure out how to make them.
21. Body By Thin Mints — A few months ago, I made my dad a joke T-shirt with the slogan "Body By Thin Mints" on it. He wears it everywhere. I'd love to turn this into a line of joke clothing for fellow Girl Scout cookie lovers, but I'd also like to not get sued by the Girl Scouts.
22. UsuallyAlways — Last year, a friend caught me responding a question of hers with the phrase, "Usually always." I liked how it sounded, and I've decided: If I ever start a production company, Usually Always will be its name. Of course, first I have to figure out what the hell "usually always" means. (Also, I need to learn what a production company does.)
23. Start my own community newspaper — I'm not sure why I don't see young career journalists trying this, actually. Go to a small town. Buy a paper — they're selling for almost nothing. And see if you and small team of really dedicated young people can experiment and hustle your way to success. With a really amazing team on board, I might consider this. But after Stry.us, I also know how crazy you have to be to attempt something like this.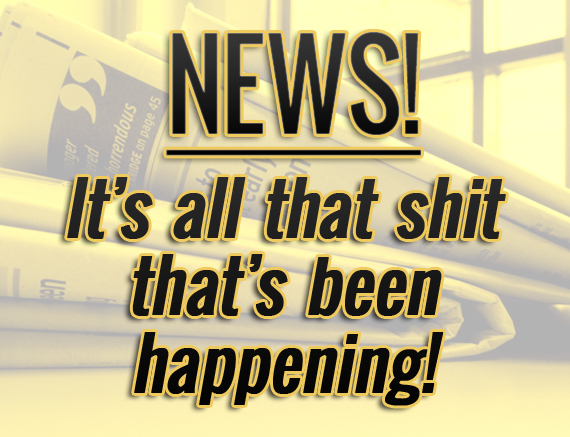 24. Why Choose News! —> A list of reasons why people should read news sites every day. The entire idea is based around one fake poster I made earlier this year. (See right.)
25. SeeDanGo.com — A site dedicated to my personal travels — you know, once I make the first billion and dedicate my life to world traveling. :-)
So that's what I've got. Maybe there's something on here you'd like to work with me on? Shoot me an email or a tweet.
Maybe there's something you'd like to steal for yourself? That's cool, too.
Because here's what I know: Ideas are only worth so much. Execution's really what matters.
Photo of the lightbulb via here. Indecisiveness via here. Dayquil via here.