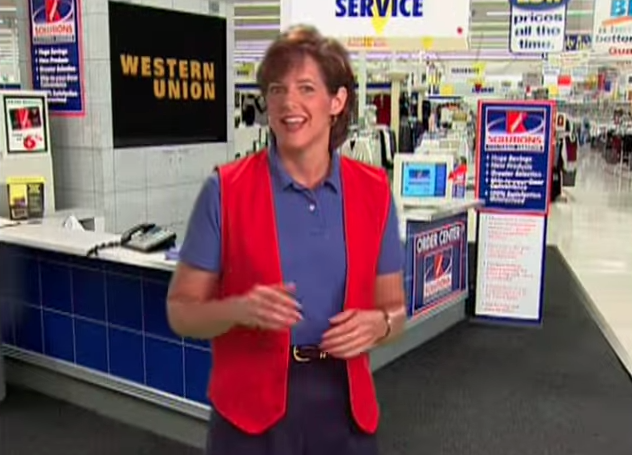 There's a video going around the internet this week about Kmart. If you're reading this, you probably haven't thought about Kmart in a long time, and you probably haven't shopped at a Kmart in even longer. (Confession: I actually have shopped at one in the past year. There was one in my old neighborhood here in New York. It was open late, and when you needed something random at 10 on a Tuesday, it was often the only place to go. I called it the Kmart Of Last Resort — nobody wanted to be there, but hey, you needed a new shower rod in the middle of the night, so there you were!)
Anyway, the video itself isn't even 20 years old, but at first glance, it seems hopelessly outdated. Here was their big idea: You could shop online with Kmart, but to do that, you first had to physically be at a Kmart. Ads touted it as a "store within a store."
Looking back at videos from the '90s, it's easy to wonder how people could be so clueless about the internet. (Here's looking at you, The Today Show!) Hindsight can be a cruel thing.
But this is what's really interesting about Kmart: At the time, they didn't seem clueless at all. In 2000, CNN wrote that Kmart had managed "to position its Web site among the gazelles of the Internet." And they weren't alone in their praise. Here's my personal favorite quote: "Kmart probably has more influence over the way that people shop online than Amazon does." Kmart wasn't backwards or behind the times; to the contrary, they were an innovator in the space!
Looking back, Kmart's strategy made a lot of sense:
1) They recognized the internet as part of the future of their business — In 1998, they started running those ads touting an internet-like store that you could shop from within a brick-and-mortar Kmart. (It even used touch-screen computers!) Their customers were just starting to use the internet, and online shopping was a brand new experience. So Kmart tried to get shoppers accustomed to the convenience and safety of online shopping by introducing it in stores.
2) But they realized that many customers still weren't online — Their customers couldn't shop online if they weren't on the internet yet. So Kmart invested millions into BlueLight, a company that gave out free internet access via CDs handed out inside stores. BlueLight launched in 1999; by 2000, BusinessWeek reported that "more than 4.9 million people have signed up for the online service — placing it among the top three Net-access providers," and that 40 percent of those new subscribers had never used the internet before. At least in the short term, BlueLight actually succeeded in getting Kmart shoppers online! But the last step was the hardest one.
3) They tried to make online shopping a habit — Bluelight users were automatically taken to Bluelight.com, a spinoff of Kmart.com. From there, Kmart offered exclusive deals for online shopping. The deals changed on a regular basis. If the idea worked, customers would get into the habit of coming online every day to check for new deals and shop. The early returns were promising: During the holiday season in 2000, BlueLight.com saw "a 1,000% jump in sales and 823% increase in traffic" from the previous year. During the holiday season in 2001, 9 million unique visitors shopped on the site. Customers were getting online thanks to Kmart, and turning that loyalty into dollars spent on Bluelight.com.
But things fell apart from Kmart — and quickly. Kmart offered 250,000 products on Bluelight.com, but it struggled to keep products in stock online. The website struggled, and Kmart's entire business went into bankruptcy in 2002. The strategy made sense; the execution was lacking.
I think a lot about that part: The strategy made sense; the execution was lacking. We're 15 years removed from Kmart's BlueLight failures. 15 years from now, when we're looking back at this age of the internet, how will we remember networks like Facebook or Twitter, or an organization like BuzzFeed, or even products like the iPhone or iWatch?
There is a line between smart, and not; visionary, and not — but it only gets revealed with time. Right now, there are a lot of bright leaders out there working out the strategies to keep their businesses growing. Some of those businesses will become an Amazon or a Walmart, and some will become a Kmart. The difference could be execution, or it could be mere luck.
Just remember, though: In 2000, Kmart was an innovator on the internet. They were ahead of the curve. Now look at them. Hindsight reveals all.