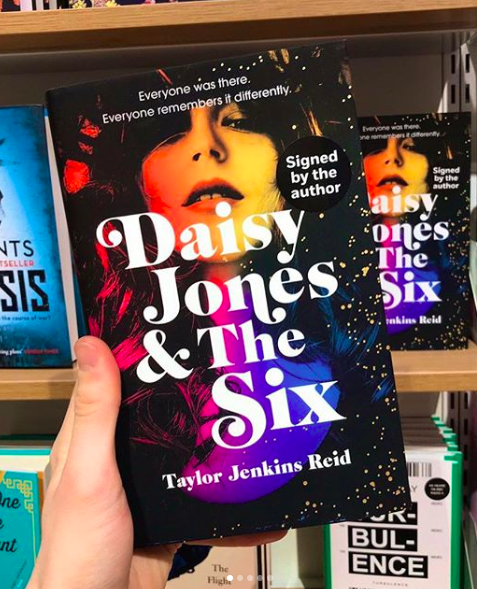 I just finished Taylor Jenkins Reid's new book, "Daisy Jones & The Six." I suppose the word "finished" isn't quite right — I cancelled plans and stayed in so I could keep reading it. If you liked "Almost Famous," or if you've watched "History of the Eagles," or if you have strong feelings about Fleetwood Mac, you'll probably enjoy this one, too. It's a fictional oral history of a chart-topping '70s rock band that burned out too quickly, and halfway through, you'll be convinced that they were real.
The book doesn't just nail the rock and roll voice of the era — it also has a few quotes that feel like they're ripped from a rock documentary. Here's one I've been thinking about the past few days, from a member of the band:
Warren: Let me tell you the sweet spot for being in rock 'n' roll. People think it's when you're at the top but no. That's when you've got the pressure and the expectations. What's good is when everybody thinks you're headed somewhere fast, when you're all potential. Potential is pure fuckin' joy.
I've been lucky to have been there in the early days of some incredible projects, when you realize that you're onto something good, and the potential paths start opening up in front of you. Sometimes, an idea sparks just right, and you'll find yourself jotting down page after page of ideas, or having a conversation with a co-worker where every potential next step excites you. There isn't pressure, and there aren't any expectations. It's just you and your team and this idea. You don't know what's up ahead, but you're thrilled about the potential of it anyway.
What I can tell you, too, is that those moments can be frightening. You may doubt yourself: Do I have enough experience to take this opportunity on? Am I good enough to do this? (You do, and you are.)
If you're excited about the idea or the opportunity, press on. Embrace the moment. Run with it. Those moments of true, limitless potential are special, rare, and worth chasing. Embrace those moments — they really can be pure fuckin' joy.
———
That photo of the cover of "Daisy Jones & The Six" comes via the Instagram of the author, Taylor Jenkins Reid.