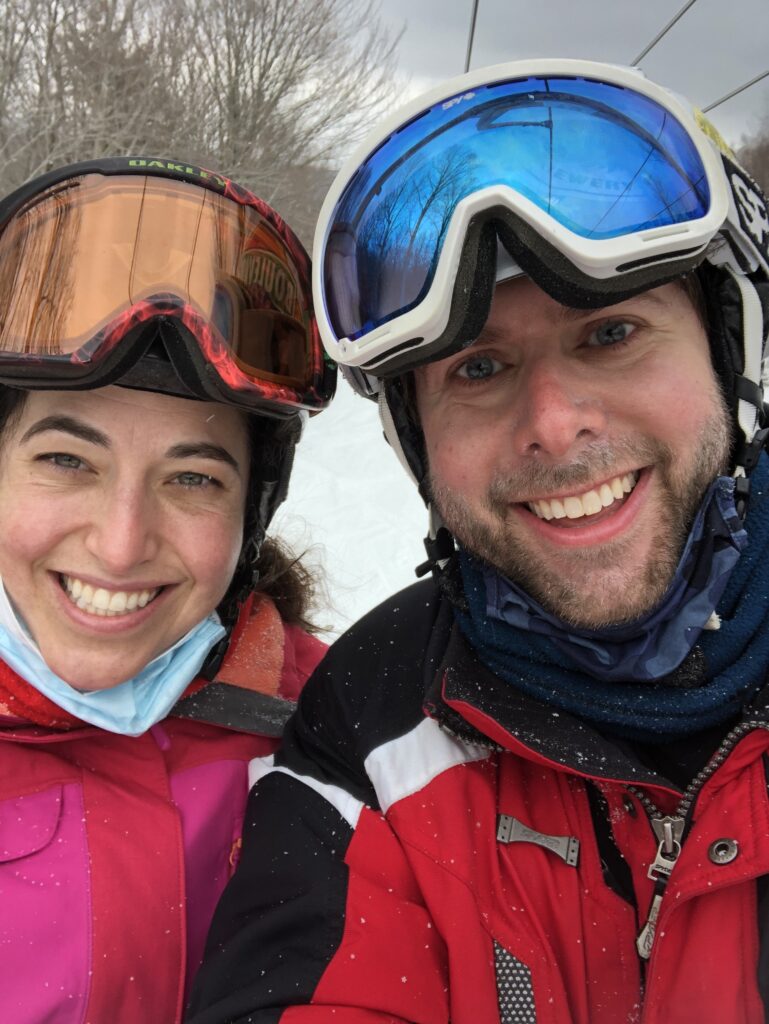 I'm 34 years old, and I know that not everything goes according to plan.
Back in March, Sally and I decided to take a trip up to Vermont to go skiing. We left in the early afternoon, and gave ourselves plenty of time to make it to the hotel in Burlington. We took our time at dinner, and even stopped for an ice cream cone in Massachusetts — we weren't in much of a rush. In Vermont, I took over driving. Google Maps said we had about 90 minutes to go.
15 minutes in, the snow started coming down — a few flakes at first, and then sheets of it. The winds picked up, and visibility shrunk. I drove with flashers on, at maybe 20 miles per hour, but could barely see in front of the car. We saw an 18-wheeler going south, struggling to keep from sliding off the road. I got off the highway as soon as I could and found a gas station with a big covering to park under. I pulled out the weather app on my phone. A giant storm was passing through Vermont, and it'd be dropping several inches of snow — and bringing high winds along with it — for another three hours.
You learn a lot about a relationship when things get stressful when traveling. I learned early on with Sally that we make a pretty great team on the road. No matter where we are or what the situation is, we're good at taking a breath, figuring out our options, and making a decision. Life is a series of lefts and rights. Make your choice, and go.
Which is what we started to do at that gas station in middle-of-nowhere Vermont, with temperatures quickly dropping below 0.
Make it to Burlington? Even if the storm did pass through, there was no guarantee that the highway would be passable — and if we did, we might not make it until 3 a.m.
Head back towards the White River Junction, where there were hotels? We could, but the highway was already so slick, and we'd be driving into the worst of the storm.
And then Sally had a third idea: Could we find a way, on back roads, to make it to Montpelier?
Montpelier's the capital of Vermont, and it's also the smallest state capital in America. Downtown is just a few blocks, with a handful of cute coffee shops and bookstores and a nice hotel right downtown. Google Maps said if we took the local roads, we were just 60 miles away, and at least we'd be heading in the direction of Burlington. We'd noticed a few cars and trucks passing the gas station, and things seemed a lot less slick on the local roads than they did on the highway.
So we called our original hotel, cancelled our first night, booked a room in Montpelier, and got back on the road.
Other cars had carved a path ahead for us, and I did my best to stay in their tracks. I couldn't see what was beyond the edges of the road, and tried not to think about what we happen if the car's wheels went too far to the left or right. I don't think I went above 35 miles per hour at any point on the drive, but with my flashers on and windshield wipers on high, we slowly moved north, past farmland and over hills and through small towns. "We can do this, we can do this," Sally kept saying aloud, partly to herself, partly to me. Slowly, our car plowed onward. The trees helped shield us from the worst of the wind and snow. Every 10 miles closer felt like a small victory.
And 90 minutes later, we somehow came over a hill and found ourselves looking at the lights of Montpelier. I cheered, Sally cheered. We pulled over at a gas station, and Sally grabbed a six-pack of Heady Topper, a great local IPA. At the hotel, we discovered that our room had a balcony, so even though it was well below 0 with wind chill, we bundled up, sat outside, and toasted to making things work even when everything went off script. I wasn't how we'd made it, but we'd made it, and that was worth celebrating.
I think it was my single favorite night of 2021.
Over the past year, there are certain things I've come to believe hold true. I know that my beliefs will continue to change. I know that I will change.
But here, at 34, is what I believe:
You can't operate at 110% capacity forever. Do a little less so you can get the most out of what you do.
Launching your own business requires you to get comfortable with being uncomfortable. I got to work with teams this year that I'm absolutely thrilled to call clients, and the revenue from the business is beyond anything I would've thought possible. But just because the work is good now doesn't mean it'll be like this in a year or two or five. Accepting that things are good now, and might not be this way forever, is part of the job.
You might get nervous doing something you've done hundreds of times before. It's probably not because you're scared. It might be because you care.
Be generous with how you spend your money, and careful with how you spend your time.
The hardest part about personal growth isn't the setbacks — it's the plateaus. Think back to when you first started. You're a beginner, so improvement is rapid. Every day, every week, every month, you get a little better. It's exciting! And then: You feel like you hit a wall. Suddenly, you're not making progress at the same rate. Treading water feels like a step backwards. You get frustrated. You question things. Then you start again, and try to break through. If you're lucky, you do! You start improving again. But with time, it happens again: Another plateau, and another chance to find yourself and break through.
One day, everything's going to change anyway — so why not go ahead and do the thing you've been wanting to do?
Take time to acknowledge the wins. Even a small win is worthy of celebration.
When you're visiting a new city, make sure you ask the hotel what time local restaurants close. It might be earlier than you think.
Always book the refundable option when traveling. Sure, you'll have to spend a few extra bucks now, but when you have to cancel the trip at the last minute and aren't on the hook for a $500 hotel stay, you'll be grateful you did.
If you're traveling with a partner or a group, take a few hours apart to do something solo. You'd be surprised at how much the time alone recharges everyone.
Is New York forever? I have no idea. But it's all I want for now.
It's OK to fail. The only mistake you can make is failing to pivot away from your failures.
There's an element of randomness and luck in every single day. Be grateful when you're lucky — and when you're not, be optimistic. Things often even out.
And finally: You don't have to fill every moment with something. I'm thinking about this moment earlier in the year. It was a Saturday afternoon, and I was running errands in the car, and with traffic, I realized that I'd be out driving for more than two hours. My mind started to go through options. Two hours was a lot of time to do something new. But what should I prioritize? Should I start a new audiobook? A new podcast? Call some friends?
Then I did something I never do: I turned on the radio, rolled down the windows, and let the time pass. Everyone should make time for a few minutes of absolutely nothing.
———
That's a photo of Sally and I on the chairlift at Stowe, 48 hours after our late-night driving adventure in Vermont. I still can't believe we made it.