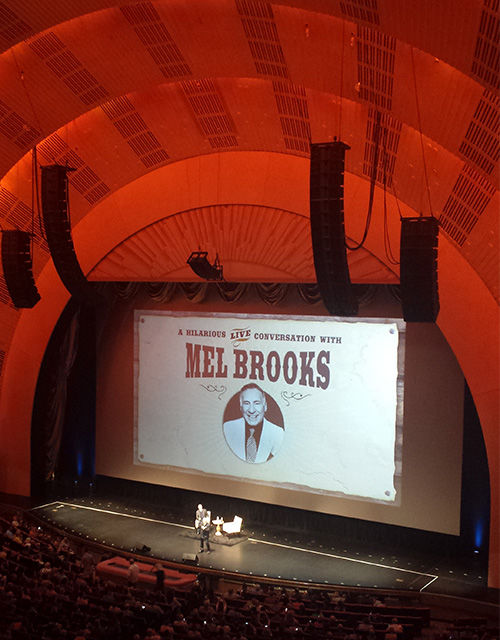 Last Monday, my wife emails me an interview with Mel Brooks. The interview has a bit of news: He's going to do a showing of "Blazing Saddles" at Radio City Music Hall later in the week, and then a Q&A after the movie. We both love Mel and his movies, so I go looking for tickets. They're a little pricey, and we're debating whether or not to go. I'm leaning towards going — Mel is 90, he's a living legend, and you never know if he'll be back again.
Halfway through our email thread, the news breaks that Gene Wilder has died.
We buy the tickets.
Of course, it was worth the price of admission, and then some. The crowd could not have been more excited — you should have heard the ovation when Wilder's Waco Kid first showed up on screen. And then Mel Brooks came out on stage and started telling stories, and we all went absolutely crazy.
He told this one that really landed for me. He's told this story before, so I'll quote it for accuracy:
At one point in the movie, an old lady in a bonnet says, "Up yours, n—-r." Brooks recalled asking John Calley, then head of production at Warner Bros., "'Can we beat the s— out of a little old lady? Can we punch a horse?' He said to me, 'If you're going to go up to the bell, ring it.'"
If you're going to go up to the bell, ring it. I absolutely LOVE that.
And it explains so much about Mel Brooks. This is a guy who did musical numbers about both the Spanish Inquisition and Nazi Germany. This is a guy who made Frankenstein dance. This is a guy who put a fart scene into a Western.
Yeah, Mel Brooks rang that bell.
If you're going to go halfway, you might as well go all the way. Mel Brooks taught me that last week, and I'm going to try not to forget it.
———
That's a (not very good) photo of Mel at Radio City that I took on Thursday. Look closely: There's a little Jewish guy at the front of the stage. That's Mel.