My startup songwriter-in-residence, Todd Snider, has a line that I find myself quoting a lot. It's from a brilliant little song, titled "Easy Money." He sings:
Everyone wants the most they can possibly get
For the least they can possibly do
And he couldn't be more spot on. I meet a lot of people who want to be an overnight success. Problem is, for most of us in the creative/entreprenurial spheres, there's no such thing.
Don't believe me? Listen to the Twitter guys.
And here's more proof. Meet Dave McClure. Out there in Silicon Valley, he's what Ron Burgundy would call kind of a big deal. He's worked with startups, invested in startups, immersed himself in startups. His latest extravaganza is called 500 Startups, and they're a startup accelerator. They bring in a ton of startups — this year, they've worked with north of 50 startups. They mentor them, they groom them, they fund them — and then they send them out into the world.
Naturally, people thought this was crazy.
But then I saw this Twitter exchange tonight between McClure and Jason Cohen, an entrepreneur and investor who runs a popular startup blog: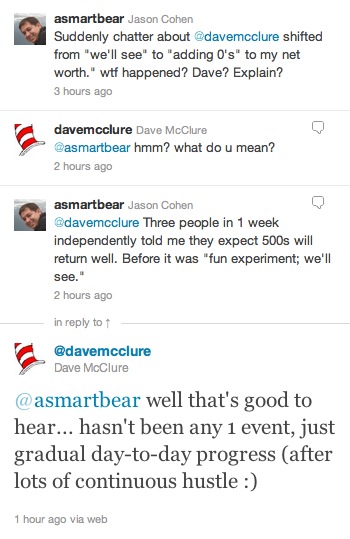 Amen, guys. They speak to a simple truth: Want to make change? It can happen — one day at a time, one relationship at a time.
Things happen slowly. Success has to be earned. Trust has to be earned.
It happens: One day at a time. One relationship at a time.
Start there.