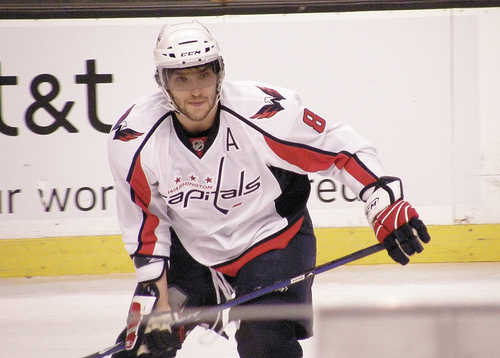 I've been watching a lot of the NHL playoffs lately, mostly because I'm trying to give myself an early heart attack, but also because my Washington Capitals are in the hunt for the Stanley Cup. As always, I've been paying close attention to how our superstar, Alex Ovechkin, is playing.
If you're not familiar with Ovi's work, perhaps a highlight like this might jolt your memory:
Or this:
Or this:
s
Ovi was always great at delivering the highlight reel plays. But early in his career, fans, media, and even his own coach criticized him for taking plays off. Just look at this GIF, and watch no. 8 casually skate towards the net — even with an opponent standing there WIDE FREAKING OPEN.
At the start of the season, the Caps called out Ovi, saying he "has got a little too much glide maybe in his game." To put it another way: Ovi was taking plays off, and the team wasn't going to take it anymore. He's always been talented — but it was time to step up his overall game.
And he took it to heart. Last year, the Caps were outscored by 35 goals when Ovechkin was on the ice — even though Ovechkin himself scored 51 goals on the year! This year, he scored 53 goals — and the Caps were +10 with him on the ice. That's an incredible turnaround.
What changed? Ovi's actually pushing himself on defense, and trying to put himself into spots to contribute even when he's not scoring goals. He's not just gliding through the game, waiting for his chance to score.
A lot of us have struggled with a problem similar to Ovechkin's. Some of us coast through our jobs. But to get better, we all have to find ways to push hard to get the work done — even when the glamorous or the exciting parts of work aren't in front of us. It's not just about the big moments. The little things — the stuff announcers call "the dirty work" — matters, too. We could all use more of Ovechkin's new work ethic in our game.
———
That photo of Ovechkin comes via Flickr's @dan4th.