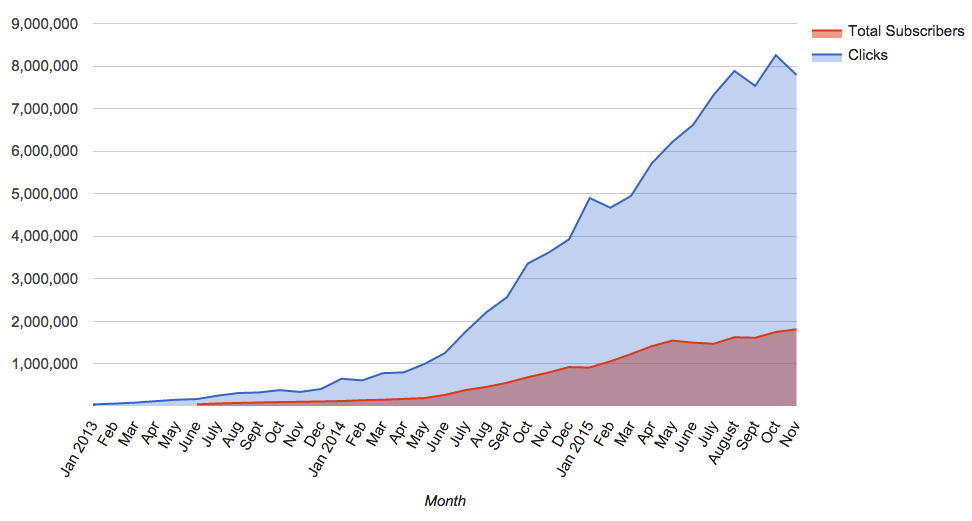 Today is my three-year anniversary at BuzzFeed. I remember my first day vividly. My then-boss, Dao Nguyen, was out sick. So Chris Johanesen, our head of product, welcomed me and showed me to my desk. "You know what you're supposed to do, right?" he asked.
I most certainly did not.
I had built out Stry.us and launched Tools For Reporters. I had launched newsletters with both of those projects, and I had enough experience to know that newsletters could work at scale. But I didn't know how to launch a project at this level. I didn't know how to grow it, or even what I was looking for in a team. I wasn't even sure if I would last long enough at BuzzFeed to hire a team!
And now on my three-year anniversary, I'm looking back with amazement at a few incredible facts:
-On Sunday, BuzzFeed newsletters drove its 100 millionth click to BuzzFeed.com. ONE HUNDRED MILLION CLICKS.
-In the chart at the top of this post, the giant blue hockey stick of a line is traffic to the site on a month-by-month basis. How did we even do that?
-To put everything in perspective: The week I started, our five automated newsletters were driving 14,000 clicks a week. We've grown from those five newsletters to a dozen core newsletters, plus another 10 automated newsletters (like this) and original newsletters in four other countries on four different continents. Pretty good!
-When I started, we had fewer than 20,000 subscriptions across our newsletters. Now, we've got more than 2 million subscriptions across our lists. (And we've got plenty of room to grow!)
-The team's grown from me to a team of four in New York, plus another half dozen BuzzFeeders around the world who pitch in to write newsletters in three different languages every week.
-Our newsletters used to be automated, and almost unreadable on your phone. Now every newsletter is written by a human, and they're all responsively designed.
How'd we achieve all this? By testing out lots of weird ideas (This Week In Cats, anyone?) and spending a lot of time looking at the data and trying to figure out where it was pointing us. By being super clear in our mission: to send newsletters that were always useful and delightful. And by seeking out great people who could bring the ideas, energy, and work to take newsletters to amazing places.
Thanks to everyone who's been a part of growing newsletters into such an tremendous program at BuzzFeed. Here's to what we've accomplished — and to everything we'll learn between now and our billionth click. (Hey, we're 10% of the way there already!)