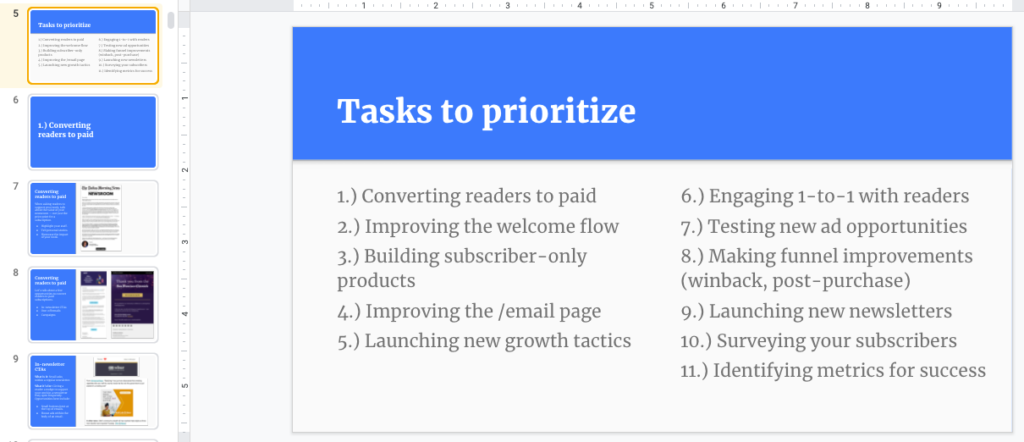 Newsrooms sometimes hire me to produce an audit of their email strategy. They'll give me logins to their email system and their analytics, and I'll interview key staffers to understand what they're doing and where there are opportunities to improve. Then I'll turn my findings into a slide deck.
When I first produced these audits, the final deck was about 50 slides long. But as I did more of these, and started to identify other areas to cover during an audit, the decks started getting longer. 50 slides became 100, and then kept growing from there. My most recent audit checked in at 206 slides.
As a partner for these newsrooms, my job is always to overdeliver. I want to make sure I give them everything they're looking to learn — and then some.
But last year, I noticed that when I'd present these longer decks, I wasn't getting much feedback from the newsrooms. They weren't asking questions about specific slides or tactics, which seemed odd, since they'd been so curious earlier in the process. What had changed? After I followed up with a few clients, I got my answer: I was overwhelming them with information.
So that became my new challenge: How could I overdeliver without overwhelming?
A few changes really helped. Up front, I started setting clearer expectations for what a client could expect from the audit. I told my teams: This is going to be a lot, and I don't expect you to do every single thing in here. That freed up the teams to pick and choose what tasks to execute on based on my findings. 
I also changed the structure of my presentations. Instead of one big audit reveal at the end, I started coming to my newsrooms with initial findings — a shorter presentation, about 45 minutes long, to talk through the most important topics, and to get feedback about things they wanted to see more of in the audit. That gave them a chance to start thinking through the big themes of the audit before the final deck was presented.
I changed the structure of the deck itself, adding a section at the start with a list of suggested tasks to prioritize. That helped teams understand which tasks were ones to work on right away, and which were ideas to put on the back burner.
I told newsrooms not to invite their entire team to the final audit presentation. Did the sales team really need to sit through 90 minutes of discussion about email deliverability or growth? No, not really. Instead, I started giving the audit presentation to a core group of stakeholders, and then set up smaller presentations to specific teams (sales, product, editorial) so they could focus on the findings most important to them.
And lastly, I started setting up monthly calls to check in with teams after the audit, to talk through their prioritization list, and to help remove any roadblocks in their way.
I'm still searching for other ways to overdeliver without overwhelming. The audit process isn't perfect, and there are going to be ways to continue to make it even better.
———
At top is a slide from an audit presentation to an Inbox Collective client.